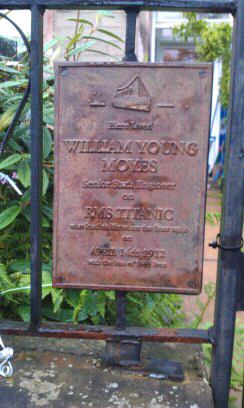 You might have heard on the news that yesterday was the 100th anniversary of the launch of RMS Titanic from the Harland and Wolff shipyard in Belfast. As we all know, the Titanic's maiden voyage ended in disaster and tragedy following a collision with an iceberg in the North Atlantic on 12th April 1912, resulting in 1517 deaths among the passengers and crew, and leaving 1517 families on both sides of the Atlantic to contemplate their own personal tragedies.
If you look at the Wikipedia entry for the Titanic, you will find that it lists all the passengers and crew, identifying those who lived and those who died. One of the engineering crew who died was a Mr William Y. Moyes, Senior Sixth Engineer. He is listed in the record as being from "Stirling, Scotland" and lived, in fact, in the street next to the one in which we live, where this featured sign is fixed to the fence of the house in which he once dwelt.
Apologies that image isn't great but the light was very poor. The plaque has a picture of the Titanic at the top. Below it, the wording says:
"Here lived
WILLIAM YOUNG MOYES
Senior Sixth Engineer
on
RMS TITANIC
who lost his life when the liner sank
on
APRIL 14th 1912
with the loss of 1635 lives",
just one of the many moving stories from that terrible day. Note the discrepancy in the number of deaths (1635 vs 1715). The higher figure is the official death toll, I think.
Lovely to see the flowers that someone tied up there for the anniversary. We'll raise a glass to his memory (and all those who died) next April 12th, 100 years to the day.